Beadworkers Guild e-newsletters
The Guild sends an e-newsletter every quarter to those members who have given us an email address. This is timed to go out between issues of the Journal.
A sample is shown below.
For the latest newsletter, you need to login to the Members' area.
Beadworkers Guild February Newsletter
In this Issue
• Chairman's Chat:
• Membership Renewals
• National Beading Week 25 July to 2 August
• Direct Debit Renewal Dates
• The Challenge
• Berry fruits colour display
• The April Journal
• Bugs & Butterflies
• The Great British Bead Show May 2015
• Show information
• Stitch Workbook Assessments
• Bead Group news
• And finally
Other News
Shows and events
The Beadworkers Guild will have a presence at the events marked with an asterisk*.
March
March 1st
Bead Fair
10.30am - 4.30pm
Perth Concert Hall, Mill Street,
Perth. PH1 5HZ
Tel: 01738 563 264
www.scottishbeadfair.com Perth,
* March 5th - 8th
Craft Show
9.30am - 5.00pm
SECC, Exhibition Way,
Glasgow. G3 8YW
Tel: 01425 272 711
www.ichfevents.co.uk
March 5th - 8th
Knitting & Stitching Show
10.00am - 5.30pm
Olympia Two, Hammersmith Rd,
Kensington,
London. W14 8UX
Tel: 020 7688 6830
www.theknittingandstitchingshow.com
March 14th
Bead Fair
10.00am - 4.00pm
Northampton Bead Tour,
Holiday Inn Hotel, High Street,
Flore ,
Northampton West. NN7 4LP
Tel: 08450 943 594
www.beadshows.co.uk
March 15th
Bead Fair
10.00am - 4.00pm
Newport Bead Tour,
Holiday Inn Hotel, The Coldra ,
Gwent , Newport,
Wales. NP18 2YG
Tel:08450 943 594
www.beadshows.co.uk
March 19th - 22nd
Craft Show
9.30am - 5.30pm
NEC Birmingham,
West Midlands. B40 1NT
Tel: 01425 272 711
www.ichfevents.co.uk Birmingham,
* March 21st
Bead Fair
10.00am - 5.00pm
Sandown Park, Portsmouth Road,
Esher, Surrey. KT10 9AJ
Tel: 0800 435 553
www.thebigbeadshow.co.uk
* March 22nd
Bead Fair
10.00am - 4.00pm
Ashford International Hotel,
Simone Weil Avenue,
Ashford. TN24 8UX
Tel: 01747 830 666
www.westofenglandevents.co.uk
March 27th - 29th
Craft Show
10.00am - 4.30pm
ExCel London,
One Western Gateway,
Royal Victoria Dock,
London. E16 1DR
Tel: 01425 272 711
www.ichfevents.co.uk
* March 29th
Bead Fair
10.00am - 4.00pm
Pavillions of Harrogate,
Great Yorkshire Show Grounds,
Harrogate. HG2 8PW
Tel: 01737 841 080
www.beadwork.net
April
April 10th - 11th
Bead Fair
10.00am - 4.00pm
Flame Off,
Uttoxeter Racecourse,
Wood Lane, Uttoxeter,
Staffordshire. ST14 8BD
Tel: 08450 943 594
www.beadshows.co.uk
April 17th -19th
Workshop by Julia Atkins
Double St Petersburg Chain and Pendant
Denman College in Oxfordshire
Further details at; www.denmancollege.org.uk/courses/jewellery
April 19th
Bead Fair
10.00am - 4.00pm
Holiday Inn, Deane Gate Avenue,
Taunton,
Somerset. TA1 2UA
Tel: 01747 830 666
www.westofenglandevents.co.uk
* April 26th
Bead Fair
10.00am - 4.00pm
Haydock Race Course,
Newton-le-willows, St. Helens,
Merseyside. WA12 0HQ
Tel: 01254 236 049
www.beadsupnorth.co.uk
April 26th
Bead & Textile Fair
10.00am - 4.00pm
The Open Academy, Salhouse Rd,
Norwich. NR7 9DL
Tel: 07833 147 821
www.norwichbeadfair.co.uk
May
May 3rd - 5th
Craft Show
9.30am - 5.30pm
Weald of Kent Craft & Design,
Penshurst Place,
Tonbridge. TN11 8DG
Tel: 01425 272 711
www.ichfevents.co.uk
* May 7th - 10th
BWG - Great British Bead Show
Staverton Park hotel, Staverton,
Daventry, Northants. NN11 6JT
Tel: 07837 649 712
www.beadworkersguild.org.uk
* May 10th
BWG - Bead Bazaar
10.00am - 4.00pm
Park hotel, Staverton,
Daventry, Northants. NN11 6JT
Tel: 07837 649 712
www.beadworkersguild.org.uk
* May 17th
Bead Fair
10.00am - 4.00pm
Holiday Inn, Great North Road,
Seaton Burn,
Newcastle Upon Tyne. NE13 6BP
Tel: 01782 850 108
www.beadyfairs.co.uk
Pass it on
Know anyone who might be interested in our newsletter? Click here to forward this email to up to 5 friends at once.
Chairman's Chat: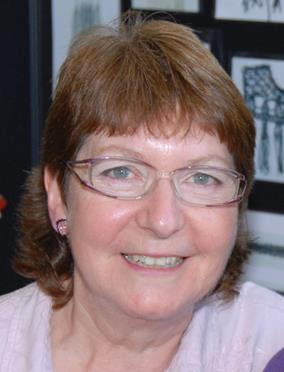 Hi everybody and welcome to our latest e-newsletter.
Spring's on the way and the days are getting longer. Hoorah – better light to bead in! I hope that you are enjoying yours.
I'm very sorry to say that work on my Challenge entry has stalled. I'm not going to give up, but it will be very, very small indeed! So I hope you are all getting on better with yours and I very much look forward to seeing them in May.
Time goes so fast that National Beading Week will be on us before we can blink, so I've been trying to decide what I will do to mark the event that won't be too difficult to organise. Please let us know what you have planned so that we can all benefit from sharing our ideas.
Happy Beading!
Liz
Membership Renewals
Please remember to renew your membership. If you have a direct debit set up, please also remember that your subscription will be described as 'charity donation' on your bank statement. If you cannot remember if you have already renewed, or if you want to check whether you have a direct debit set up, then please call us on 07837 649712.
National Beading Week 25 July to 2 August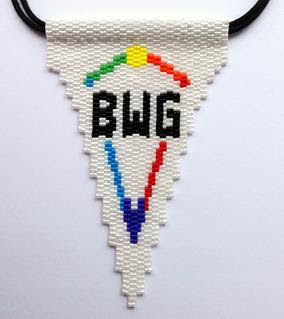 Have you looked at our fabulous National Beading Week website yet? You will find lots of ideas of how you can celebrate National Beading Week and you will be inspired by the messages from our lovely NBW Ambassadors. There are some wonderful free patterns and downloads for you to share with your beady friends (they don't have to be members to take part).
Join in our NBW bunting campaign to help us show where all our groups are around the UK. The website is being updated regularly with new events and downloads so do keep checking back. Remember we want to know what you plan to do to celebrate NWB so contact sylvia-fairhurst@o2.co.uk or Jane Griffin: editor@beadworkersguild.org.uk with news.
Direct Debit Renewal Dates
We had some problems with our membership database which have meant that some members' direct debits will not be drawn until 8th March and others not until 15th March. If you are concerned about this, please call us and we will be able to confirm the date for you. Tel 07837 649712
Unfortunately, having DD by your membership number on the January Journal address sheet is no guarantee that there is a direct debit set up. We have discovered that several were cancelled without our knowledge before the Journal was despatched.
The Challenge
How is your 'Literature' Challenge entry coming along? Don't forget that if you would find it helpful to have some words of advice from a mentor, we can arrange that for you. Please contact Ruth Vickery at vickery.ruth@gmail.comor on 01483 282 865.
Berry fruits colour display
We have had some fabulous contributions to the new Berry Fruits shows display. Thank you very much to all those who have already sent something. We hope that there are lots more in the pipeline! Please send them to Judith Bailey, 32 Goldsmiths Drive, Newport Pagnell, Bucks, MK16 8RS.
The April Journal
Our printers are having a complete refit of their machinery over Easter. This means that it will not be possible to despatch the April Journal to you until Friday 17th April.
Bugs & Butterflies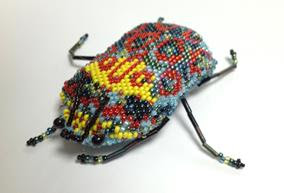 Every one of these mini works of art is worth much, much, more than the £2 raffle ticket. Some of them are detachable from the garlands and may be worn as a brooch, so just think what a pleasure it will be trying to decide which of these delectable creatures to wear!
Your next opportunity to see the garlands and buy a raffle ticket is Harrogate bead fair. If you can't get to a bead fair, then you can still obtain your raffle tickets from the office.
The Great British Bead Show May 2015
GBBS is now open to non members and there are still a few places left. Please do encourage your non-member, beady friends to come and join in the fun. They will have a wonderful experience. For more details go towww.beadworkersguild.org.uk, select GBBS and look for the booking form.
Show information
Our new-style Guild Show Stand, as described in the January Journal, is now staffed by Guild members, and has made its first two appearances - at the Kempton Park and Maldon Bead Fairs - did you get a chance to see us there? The next appearance is at Harrogate on 29th March. Do come and say hello to your fellow beaders. The Guild Show Stand will be at all the bead fairs marked with an asterisk in the Journal and the e-newsletter. However, we have just heard that sadly, due to space restrictions, we won't be at the Perth Bead Fair on 1st March.

Stitch Workbook Assessments
If any member is currently working on one of the Stitch Workbooks and wishes to have their work assessed, please send your completed work to The Education Sub Committee, c/o 8 High Firs Road, Romsey, SO51 5PZ by 31st May, 2015. Further guidance on how to submit are in the latest General Notes Workbook.
Bead Group news
Worcestershire: A new Group
Worcestershire Beaders:
Contact Susan Barber 01527 500138
email Worcestershirebeaders@googlemail.com
Meet 3rd Saturday in the month at David's Nursery, Ash Lane, Martin Hussingtree, WR3 8TB
Website www.worcestershirebeaders.org.uk
Cambridgeshire: Change of details.
Olive Tree Beaders now meet on the 4th Monday of each month from 7:15 to 9pm at Tesco Community room, Viking Way, Barhill, CB2 8EL
Contact Liz Hunter 01223 560371 email Liz.ehhunter@ntlworld.com
Carmarthenshire: Change of details.
Carmarthen Beaders now meet the first Tuesday of each month 7-10pm at WI office,
11 St Peters Street, Camarthen.
Contact Julia Atkins 01267 281767. A new email addressjuliaannatkins@gmail.com
Oxfordshire: Change of details
Didcot Beading Group now meet at 120 Broadway, Didcot, OX11 8AB on the 1st Wednesday and 3rd Saturday each month.
Contact Viv Richards 07773 634869 email vivjroberts@gmail.com
Nottinghamshire: Change of details
Bridgford Beaders have a new contact person Sheelagh Sears 01159 532473
email smsears56@gmail.com.
They meet monthly on a Tuesday, 10-1 at Abbey Road Community Centre, Buckfast Way, West Bridgford, NG2 6LN
Bedfordshire: Change of details
The beading Group meeting in Oakley is now called 'Born to Bead'.
Contact Tudor Rose Patchwork tel 01234 824983
email info@tudorrosepatchwork.co.uk
And finally
I love books and I love beads but I realised that I was becoming slightly obsessive about beading books when I recently counted my collection and realised that I now have over 100 - but in my defence they are not all devoted to seed beads.

This may be too much information but I often read one in the bath, after the gym, listening to Desert Island Discs so I wondered what my Desert Island beading books would be. Here they are in no particular order:
1. "Mastering Beadwork" by Carol Huber Cypher - very good for a beginner and I made a lot of the patterns up when I was first learning how to bead.
2. "The Beaders Floral" by Jill Devon and Liz Thornton - I still turn to it when I am trying to design flowery stuff!
3. "Creating Crystal Jewellery with Swarovski" by Laura McCabe. I discovered rivolis and I discovered the inimitable Laura - need I say more?
4. "Crystal Lace Necklace patterns" by Sandra D. Halpenny. I love netting and some of the items I have made from this have been much admired. It will probably stay on the list until the wonderful Claire Crouchley writes a book of her netting patterns
5. "Beaded Fantasies" by Sabine Lippert - probably the highest number of things I would like to bead in one book
6.The Albion Stitch books by Heather Kingsley Heath - I just marvel at the sheer versatility of this stitch
7. "I can Right Angle Weave" by Mabeline Gidez. I thought I couldn't. I knocked off a few of the basic patterns for Christmas gifts and just everyone has been asking about the pattern for my current work in progress. I think I now can!
8. "Sensational Bead embroidery" by Sherry Serafini. I love bead embroidery and she is just the best......
So those are the books I would take, along with the BWG trio of "Introduction to Beadwork" books - which are probably the equivalent of The Bible and the Complete Works of Shakespeare, rolled into one.
Please let me know your favourites and whether there is anything you think that I might not have in my collection. My current task is to choose which book to accompany me on my travels to Hong Kong to visit my first grandchild . Charlie (pictured) arrived 6 weeks early and is to blame for my lack of beading lately as I have been frantically finishing the baby clothes.
Hopefully I will catch up with some of you at Daventry - lots to look forward to and I can't wait.
Happy beading
Sandra Gidley
Registered Charity No. 1119374